Check out the reviews and personal experience from other great trombone players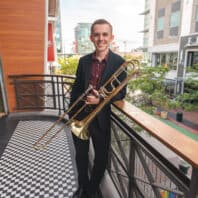 Freelance trombonist, arranger, and content creator
from Boise, Idaho, United States
I first discovered Mateusz on social media and was amazed by videos of his practicing for Trombone Unit Hannover. He is truly a top-notch trombonist! What I did not know at the time was that he is an equally talented arranger! I believe that Mat's knowledge and mastery of the trombone are able to elevate his arranging to the next level because he knows exactly how his arrangements will translate into performance.
It is obvious that Mateusz puts a lot of care into the small details and has a clear vision for how he would like his arrangements to sound. When I began working on Mat's arrangement of the First Arabesque by Debussy,
I was amazed at how well it plays on the trombone!
I then compared it with the original piano piece and discovered that Mat had transposed it up a half-step from E major to F major, making it much
more comfortable to play. Thank you Mat! While being in a friendlier key, this arrangement still provides a good challenge in terms of range and endurance. I find it to be a truly beautiful piece and would happily put it on the program for any recital.
The Pocket Pianist is another wonderful part
of Mat's work! I had the misfortune of contracting Covid-19 while working on this piece and had to quarantine, which meant no meeting with my accompanist. The Pocket Pianist was game changing and allowed me to work with the most consistent accompanist ever! Now I wish I could have Pocket Pianist tracks for everything that I practice!
(Click on the text in section below and watch the Video – performed on Edwards Trombone)
Watch Wesley playing the 1st Arabesque from the Deux Arabesques by Debussy, along with the Pocket Pianist audio track.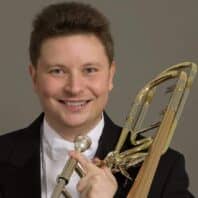 Principal Trombonist of the Hungarian Radio Symphony Orchestra
Professor at University of Debrecen
I warmly recommend Mat Dwulecki's fantastic and very instrument-specific transcriptions of the Suite Bergamasque and Deux Arabesques, two of my favorite works by impressionist composer Claude Debussy. Great music released by a great trombonist and musician.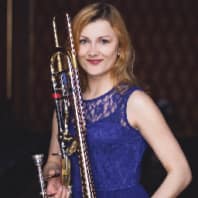 Principal Trombonist Janacek Philharmonic Orchestra (Czech Republic) and Czestochowa Philharmonic (Poland)
As trombonists, we all know very well how poor our repertoire of originally written compositions for trombone is. This is why we often have to turn to transcriptions, which have to be very well written in order to sound credible. (click here to read more)
Mateusz is a wonderful trombonist who knows his instrument inside out. As a result, his arrangement of Debussy's Bergamasque Suite is perfectly suited to the scale and capabilities of the trombone. My personal feeling after working on this suite is very positive. Despite the difficulty of the sound material itself, Mateusz used styles that made the whole thing within the reach of not only professional trombonists, but, above all, also students. Everything has been carefully considered and written in such a way that the very work on the piece is a pleasure, while at the same time, guaranteeing a spectacular outcome. I believe that Mateusz's knowledge and experience make his arrangements attractive to even the most demanding trombonists.
Another advantage of this arrangement is The Pocket Pianist, which is an audio accompaniment with the piano part. This helps everyone prepare well, even if they don't have the opportunity to meet a pianist. This is a very positive aspect at the present time.
I encourage all trombone players looking for a valuable trombone arrangement to study the work of Mateusz. I believe it is at a very high level.
(Click on the text in the section below and watch the Video – performed on Haag Brass Trombone)
Watch Marlena playing Passepied from the Suite Bergamasque by Debussy, while using the Pocket Pianist audio track.