Handel – Rejoice Greatly, O Daughter of Zion
Time to celebrate and show off your spectacular technique! Make it clear to everyone that you're not just playing a normal tenor trombone, but a Coloratura
Trombone. Amaze your audience with fast, agile, and breathtaking passages. Captivate them with expressive melody
that showcases your warm, rich trombone sound in the middle section. Leave no doubt about your exceptional Coloratura Trombone abilities in the final tutti section.
Debussy – Suite Bergamasque
Do you know Clair de Lune? Of course, everybody knows it. It's a popular solo piece among trombone players as well. However, have you ever heard the entire Suite Bergamasque for Trombone and Piano? I'm sure, you haven't. Why is it so, you may ask. Simply because THIS is the first of its kind, arrangement of the whole Suite Bergamasque for Trombone and Piano. Surprise and delight your audience with different musical characters, impressive techniques and a wide range of your trombone sound colors. Stand out by opening the new horizon of trombone mastery and showing off every aspect of your talent!
Debussy – Deux Arabesques
Paint your recital program in glamorous impressionistic colors. For the opening legato-triplets passages and the descending wavy melody in the first arabesque use broad brushstrokes of blue and yellow. Then, for the second arabesque with short and fast triplets, mix small brushstrokes of pure red and green for the highest degree of luminous intensity of your trombone sound spectrum. Your audience will adore your strong expression and magnificent technique.
The Grieg Album – Volume I
Take your audience to the land of huge fjords, thundering waterfalls, crystal clear waters and towering mountains. Sometimes dancing furiously, sometimes singing softly, other times admiring the wonderful nature, it's time to start the journey into this idyllic land.
Bach – Wachet auf, ruft uns die Stimme BWV 140
Wait a second! That cannot be! Is that a trombone playing this beautiful melody? Yes! Astonish your audience that usually expected only the chorale to be played by trombone, while the melody is always in the piano or organ part. Now that you are in charge, let your spectacular trombone sound amaze the audience with soft legato passages from the first moment on. Then present the powerful and majestic chorale in the middle section of the piece and go above and beyond expectations to demonstrate why God has chosen the trombone some many times in the Bible to emphasize his splendor.
Bach – Jesus bleibet meine Freude BWV 147
Make your audience stunning on your smooth legato and expressive phrases, and introduce them to the new silky trombone sound they haven't heard before. Play and practice with the Pocket Pianist and enjoy the melody flow, like the violins do in this most well-known Bach's melodies in the final chorale of the Cantata BWV 147.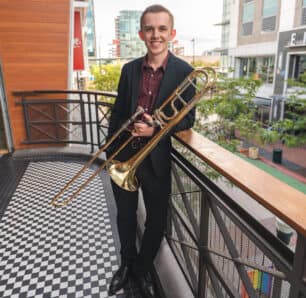 "I wish I could have Pocket Pianist tracks for everything that I practice!"
It is obvious that Mateusz puts a lot of care into the small details and has a clear vision for how he would like his arrangements to sound. When I began working on Mat's arrangement of the First Arabesque by Debussy,
I was amazed at how well it plays on the trombone!

"Perfectly suited to the scale and capabilities of the trombone"
Mateusz is a wonderful trombonist who knows his instrument inside out. As a result, his arrangement of Debussy's Bergamasque Suite is perfectly suited to the scale and capabilities of the trombone. My personal feeling after working on this suite is very positive.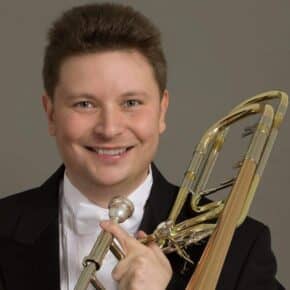 "Fantastic and very instrument-specific"
I warmly recommend Mat Dwulecki's fantastic and very instrument-specific transcriptions of the Suite Bergamasque and Deux Arabesques, two of my favorite works by impressionist composer Claude Debussy. Great music released by a great trombonist and musician.
Here are the latest Articles about Trombone-Sound.com and the Vision behind it